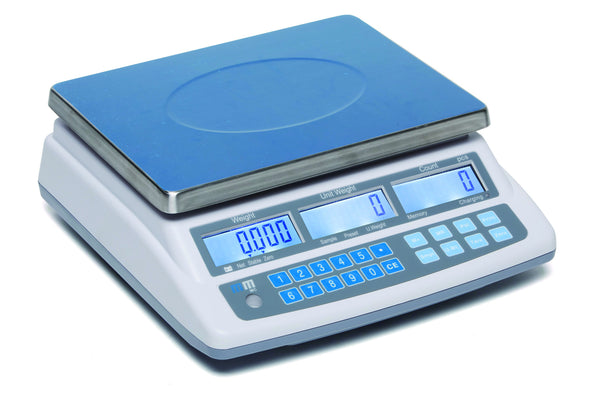 Easy to Use Counting Scales That Balance Functionality with the Latest Technology
Features
Capacities 6, 15 and 30kg
Portable
Affordable
3 Backlit LCD Displays (20mm high digits)
Rechargeable Battery
20 Embossed membrane keys
90 hours Battery Back up
Stainless Steel Pan 300mm*230mm
30,000 External Divisions
Functions Include
Weighing
Check weighing
Piece counting
Piece checking with alarm -Coin / token counting
Memory Accumulation
RS232 Interface (Optional)
| | |
| --- | --- |
| Model | MC6000, MC15000, MC30000 |
| Capacity | 6kg, 15kg, 30kg |
| Resolution | 0.2g, 0.5g, 1g |
| Pan Size | 230mm x 300mm |
| Overall Dimensions | 330mm X 315mm X 100mm |
| Net Weight | 5.5kg |
| Memory | 10 samples/coins/tokens |
| Power | DC9V/500mA with AC Adapter, built in Rechargeable Battery |
Availability – Same day dispatch
Warranty –1-year warranty
When you need to count inventory, calculate price-per-weight or package by counting items, Meltrons counting scales will provide you with portable precision, saving you time and streamlining your processes. Counting small items by hand is time-consuming and leaves plenty of room for error. The MC Piece Counting Scale eliminates mistakes and makes counting large volumes of items virtually effortless and efficient.
Meltrons has been supplying high-quality solutions to local businesses since 2010. Our Digital Counting Scales are an ideal solution for counting screws, nuts, bolts, coins, chocolates, pills and other items of similar weight which can be programmed into the scale.
Counting Scales are specifically designed and engineered to increase day-to-day efficiency and productivity in your business, particularly if you have repetitive orders or large quantities of duplicate items that need to be catalogued packaged or shipped.
Counting scales draw on the product's weight and count the number of weighed units translating the data into usable information to rapidly increase productivity beyond just saving time on counting.
Businesses that need speed and accuracy to count inventory or calculating price-per-weight benefit from the latest technology our MC scales deliver
Delis
Grocery stores
Workshops
Pharmacies
Warehouses
Advantages of Measuring Scales
Reduce Stock Waste
A counting scale allows your staff to confidently package and dispatch orders knowing the units have been correctly counted and taken off the inventory and ensures your customer receives the exact amount ordered. Reducing returns, delivery costs and administration time in managing the human error when manually counting. You know what the classics say "a penny saved is a penny earned" making sure your correct the first time means less stock waste and higher profits.
Greater Inventory Accuracy
Eliminating human error in counting is not only an inventory consideration but also has cost implications especially if the same counting error is made repeatedly over time. A quality counting scale will remove 999 units from your stock and not 991. Greater counting accuracy means better management decisions to distribute inventory.
Faster Inventory Checks
Counting stock by hand is a time-consuming task especially if you have large volumes of small items to count where the margin for error increases on repetitive tasks. Our counting scales have several features that make counting stock faster, more streamlined and efficient.
---